Rose Gold Cat Ring
"The purrfect ring for every cat lover"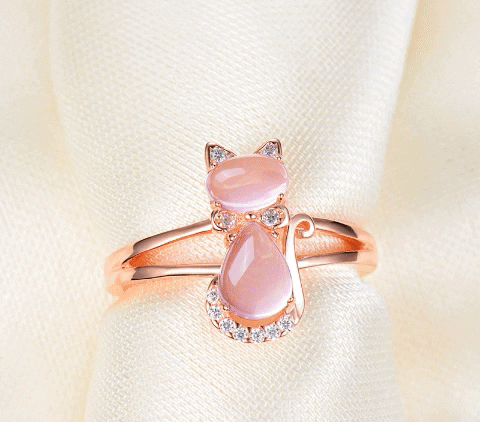 Why Get the Rose Gold Cat Ring?
The ring is made from Opal material: Wearing an opal is said to bring about loyalty and faithfulness. Opal has always been associated with love and passion, as well as desire and eroticism.
Quality Stone: Every stone is carefully selected by the craftsmen to ensure the shininess of the jewelry.
It can act as an emotional stabilizer: By just wearing and looking at the beautiful ring, it changes your mood right away from being unhappy to being a happy person; especially if you have other commitments and you have to show off the best of yourself.
Perfect to wear on all occasions: The ring's cute cat elegant design makes you wanna flaunt it everywhere you go. So if you want to impress your friends during your meetings, you must have this beautiful ring now!
Perfect gift for every cat lover: If you are looking for that purrfect gift for your sister, girlfriend, mother or even to your beautiful wife. This ring is the purrfect ring especially if she is a cat lover; its simple and elegant design makes it very attractive to every cat lover out there.
CLICK THE RED "ADD TO CART" BUTTON ABOVE TO GET YOURS NOW!!!
One of our customers shared her purchase with us:
"Very Beautiful ring, my daughter really likes it. I bought it as a birthday gift to her and I am very happy that she really likes it. Thank you. It really exceeds my expectations."
The ring is in High Demand and might not be available soon. So don't wait and secure the product Today!
Ring Size Chart
CLICK THE RED "ADD TO CART" BUTTON ABOVE TO GET YOURS NOW!!!
If you wish to buy this item and your country is not in our shipping list, please contact us at info@catcabz.com.
FREE SHIPPING WORLDWIDE!
Don't forget to follow us on our Social Media Accounts: Facebook, Twitter, Instagram, Pinterest, and our Youtube Channel