Cat Water Fountain
"Keep your feline friend happy and hydrated throughout the year"
Why Get the Cat Water Fountain?
Cat Water Fountain is the best solution for your cat's thirst. Most house cats don't normally drink as much water as they need and the main reason behind this is that most cats prefer to drink on running water.
If your cat doesn't consume enough water, he may suffer from a number of different problems, including dehydration. Inadequate water consumption can also cause or contribute to kidney disease and lower urinary tract disease. We don't want any cats to suffer this kind of problem. So if you don't want your cat to suffer this kind of health problems then you must grab this item.
Durable
Easy to set-up
Waterfall-like flow
Activated carbon filtration (To make sure the water is safe)
Daisy Design
Silent Water Pump
It's only using 3w it means this saves a lot of your money paying the electricity bill compared to other cat water fountains
Large water storage (1.6L)
Every Order comes with:
Cat Water Fountain
The mat for your cat water fountain
2 pieces of carbon charcoal activated filters
CLICK THE RED "ADD TO CART" BUTTON ABOVE TO GET YOURS NOW!!!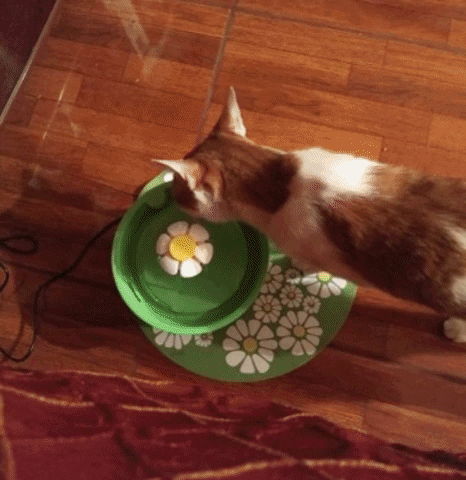 One of our customers shared her purchase with us:
"The store sent the package on the next day after the order. High-quality Plastic, all matches the description, no smell. Drinking bowl works quite quiet. Satisfied 100%."
Don't disappoint your cat make sure to buy this product today!
CLICK THE RED "ADD TO CART" BUTTON ABOVE TO GET YOURS NOW!!!
If you wish to buy this item and your country is not in our shipping list, please contact us at info@catcabz.com.
FREE SHIPPING WORLDWIDE!